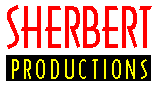 How SHERBERT PRODUCTIONS Began


stuff was added to this Page on January 24th, 1997


S herbert Productions is a Fan Parody Dubbing group based in Southern California. It was formed in February of 1989 by Phillip Sral and Corellian Jones. Phillip was willing to do a script based on some sort of Japanese Animation, and Corellian had access to 3/4 inch video editing equipment where he worked; and was also willing to put in the time it would take to edit the thing. They both wanted to try their hand at dubbing just to see if (and how well) they could actually do it. They figured they would do at least one, or at most two projects, and then call it quits.

P hillip honestly thought getting a cast of people craz-...[ahem] ...interested enough to do this would be difficult, but to date, getting people has never been a problem. Sherbert has always been able to assemble good casts.

O n May 14th, 1989 they premiered their first parody - Dirty Pair: The Arrest of Mr. Macek at the EDC Pasadena Anime Club, and got a very positive response from the attendees. The turning point for Sherbert came at Westercon 42 in Anaheim, California the same year. When they got a standing ovation after their presentation, Phillip and Corellian decided, "We definitely gotta do this again!" They then went out and purchased their own audio and video editing equipment, and have been doing stuff ever since.

T o date, Sherbert Productions has done 10 projects, and we are working on number 11.



---
If you have any comments or questions about this Web site Email:

webmaster@sherbertfanparodies.org
[Last Updated: Monday, March 20, 2000 6:47:46 PM] - (Best Viewed at 800 X 600 Screen Resolution or Higher)